Title
: The Invention of Hugo Cabret
Author
: Brian Selznick
Publisher
: Scholastic (2007)
Source
: Purchased from
Scholastic Book Clubs
Summary from Goodreads:
Author-artist Selznick has 284 pencil drawings and actual photos (an old train engine falling from upper story to street below, Harold Lloyd in "Safety Lost" 1923, film stills), bases his story on facts. Automatons could draw pictures, write poems, and sign the maker's name, one by Maillardet neglected in a museum. George Méliès, 1861 magician turned film-maker, son of shoemaker-magnate, built his own camera Kinétographe, had 500+ successes, and was rediscovered in 1926 working at wife's Gare Montparness railroad station toy kiosk.

Fiction: orphan clock-winder 1931 Paris lad Hugo steals to eat and repair robot from father's notebook, until he meets Méliès' pretty god-daughter Isabelle accompanied by helpful film student Etienne (movie Professeur Tabard). An unusual blend of graphic novel and history lesson results.

Award-winning 2011 film expands book stills into color clips, stars Asa Butterfield, Ben Kingsley, and Chloë Grace Moretz, expanded gendarme Sacha Baron Cohen and dog for comic relief, directed by Martin Scorsese for his daughter 11.
Review:
I finally got my hands on this book after years of being curious about it this past fall because the movie was coming out and I fell head over heels in love with it. I inhaled it over the course of a night and just poured over ever single page because the illustrations are just so intricately and beautifully drawn! There are so many gorgeous little details and you can't help but just run your hands over the pages because everything looks so real! It is absolutely stunning.
The Invention of Hugo Cabret is a story told in mostly pictures with a few short paragraphs here and there. There are lots of inferring going on while reading this story and it was such a different, but incredibly enjoyable reading experience. The story itself is heartwarming and full of adventure.
My favorite illustrations were of the bookstore (of course). For those of you who don't know me very well, I am a tad bit obsessed with beautiful bookshelves. (Check out my "Bookshelf Monday" feature
here
and my beautiful bookshelves board on
Pinterest
.) I can't imagine how much time Selznick took to illustrate all the pages of this book because every page is chock-filled with details, right down to each spine of the books. I wanted to LIVE in this book.
In my opinion, being able to accurately draw the human body (especially the face) is one of the hardest things to do, but Selznick does it so effortlessly and it's a true ode to his talent as an artist. Even the details in the eyes are so expressive that you feel like you are looking into the character's soul.
Selznick is an amazing artist and writer.
The Invention of Hugo Cabret
is so deserving of the Caldecott Award. If you haven't had a chance to read this book, go get it NOW because you are seriously missing out!
The book has a wonderful movie-like feel to it with it's various angles and panning in and out of scenes. I was so happy that it was made into a movie. I will be posting a book-to-movie review later this week on the movie,
Hugo
.
Rating:
5 out of 5 stars
About the Author: Brian Selznick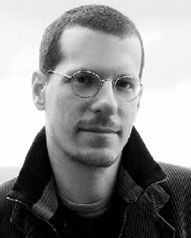 Hello there. My name is Brian Selznick and I'm the author and illustrator of
The Invention of Hugo Cabret
. I was born in 1966 in New Jersey. I have a sister who is a teacher, a brother who is a brain surgeon, and five nephews and one niece. I studied at
The Rhode Island School of Design
and after I graduated from college I worked at Eeyore's Books for Children in New York City. I learned all about children's books from my boss Steve Geck who is now an editor of children's books at Greenwillow. While I was at Eeyore's I also painted the windows for holidays and book events.
My first book,
The Houdini Box
, which I both wrote and illustrated, was published in 1991 while I was still working at the bookstore. Since then, I have illustrated many books for children, including
Frindle
by Andrew Clements,
The Doll People
by Ann Martin and Laura Godwin,
Amelia and Eleanor Go for a Ride
by Pam Muñoz Ryan and
The Dinosaurs of Waterhouse Hawkins
by Barbara Kerley, which received a 2001 Caldecott Honor.
I have also written a few other books myself, including
The Boy of a Thousand Faces
, but
The Invention of Hugo Cabret
is by far the longest and most involved book I've ever worked on.
I live in Brooklyn, New York, and San Diego, California.
Author's website:
http://theinventionofhugocabret.com/about_brian_bio.htm
If you would like to find out more about Marvelous Middle-Grade Monday, you can check out Shannon Messenger's blog here.