Lisa at
A Life Bound by Books
, Jessica from
Confessions of Bookaholic
, Rachel from
Fiktshun
, and Jaime and Patricia from
Two Chicks on Books
are hosting a week of looking back and looking forward through the Top 10 of 2011 series. Each day I will be posting a new Top 10 list. I love making lists so it will be nice to recap this year's books with these Top 10 lists.
While making this list, I realized that I actually read a lot more nonfiction this year than I realized and couldn't come up with 10 Book Boyfriends. So I chose 6 book boyfriends and 4 from TV and movies. WARNING: There are many SPOILERS ahead so if you have not read these books, consider yourself forewarned.
Top 6 Book Boyfriends:
Book Boyfriend: Dexter Mayhew
Title: One Day
Author: David Nicholls

Why I chose Dexter as a book boyfriend:
I am still majorly crushing on Jim Sturgess as Dexter even after all these months. I learned about One Day from the Goodreads challenge promoting the movie, so I didn't know about this book pre-movie. While reading it, I couldn't help but picture Jim Sturgess as Dexter and Anne Hathaway as Emma. As a character, Dexter is the bad boy that all of us girls have dated while subsequently trying to "rescue" and "save." You love/hate Dexter most of the story, but deep down you know why Emma loves him. All of us girls can also relate to the being close friends to the guy you actually really want to be your boyfriend because while being such a great "friends" with you, you are wishfully hoping that he will one day see the light, come to his senses and fall madly in love with you. I loved watching Jim Sturgess play Dexter in the movie and especially as he aged. If anything, I think he looks great with his salt-and-pepper look. Doesn't he look just yummy all scruffy too?
Book Boyfriend: Matt
Title: Flat-Out Love
Author: Jessica Park

Why I chose Matt as a book boyfriend:
I adored Matt from the moment that he picked up Julie in the first chapter of the book. He's geeky, socially awkward and altogether lovable. He's actually someone that I would have dated in college. My husband is a dorky one himself and I just love that about him. As the story goes on, I kept hoping that Julie would start crushing on him instead of Finn. Read the book and you'll see why you love Matt even more at the end.
Book Boyfriend: Gale
Title: The Hunger Games
Author: Suzanne Collins

Why I chose Gale as a book boyfriend:
Yes, I'm Team Gale. I always wanted to Katniss to end up with Gale. He was her best friend. He understood her. He was there for her through all the hard times of supporting her family. He was outdoorsy, rugged and masculine - the guy version of Katniss. Gale took care of his family in the same way that Katniss did for her own family. If the Games did not happen, I think she would have ended up with Gale. In the movie, Gale's character is a lot bulkier than I imagined in my head. Like I mentioned in my Hunger Games Trailer post, I pictured him more like Orlando Bloom in my mind a-la Legolas because of his abilities with a bow and arrow.
Book Boyfriend: Peeta
Title: The Hunger Games
Author: Suzanne Collins

Why I chose Peeta as a book boyfriend:
Like I said above, I am Team Gale. I do have to admit that I did root for Peeta Mellark though. Even though it was all a part of the Games for Katniss, he actually genuinely loves her. He was the baker's son who gave the bread to her and was punished for it. I didn't like him very much as the series went on though, especially in Mockingjay. As Peeta's character in the movie, did they have to make him so dang cute? I have a feeling that I will waver more between Team Gale and Team Peeta once I see the movie. (Just like what happened with Team Edward vs. Team Jacob in Twilight. I was ALL about Edward pre-movies, but they just made Jacob so lovable in the movies.)
Book Boyfriend: Michael
Title: Sundays at Tiffany's
Author: James Patterson

Why I chose Michael as a book boyfriend:
I haven't seen the Lifetime movie yet, but I have a feeling I am going to love it because I just love Alyssa Milano. Plus, the person that plays Michael is not so bad on the eyes either. I didn't LOVE Sundays at Tiffany's like I was hoping I would. I love the premise of it and the story itself is decent, I just wanted MORE - more details, more feelings, more romance. The premise of the book is that Jane has an imaginary friend that leaves her when she turns 10 because that's what he's supposed to do. However, their paths somehow cross again and there might be more than just friendship this time around.
Book Boyfriend: Carter Maguire
Title: Vision in White
Author: Nora Roberts

Why I chose Carter as a book boyfriend:
I married "Carter." My husband is a teacher and is sweet, gentle in nature and intelligent like Carter Maguire in Vision in White. He is shy and obviously isn't good with getting the girls, but nice guys finish last, right? It's hard to not like Carter because he is the level-headed one compared to the ups and downs of Mac and the girls.
To round off my Top 10, I supplemented my list with men from TV shows and movies, so here are my

Top 4 TV/Movie Boyfriends:
TV Show Boyfriend: Will Gardner
TV Show: The Good Wife

Why I chose Will as a TV show boyfriend:
I think Will is my biggest character crush of the year. My husband and I just LOVE The Good Wife. It is SO well-written and everything about the show is top quality. The main character, Alicia Florrick, is the wife of a politician who set off a huge scandal with the prostitutes he's been sleeping with. She goes back to work as a lawyer with her former college friend, Will. He's a powerful lawyer who just exudes confidence. He dresses so well in his suits and even when he's dressed down, he looks put together. He's one of Chicago's 16 most eligible bachelors. There's TONS of sexual tension on the show between Alicia and Will - will they finally sleep together or not? And underneath it all, he's just a bit soft and vulnerable on the inside. Need I say more?
TV Show Boyfriend: Michael Westen
TV Show: Burn Notice

Why I chose Michael as a TV show boyfriend:
Burn Notice is one of the best shows on TV and it's because the characters are amazing. Michael Westen is an ex-spy who has been burned, but wants to find out who and why they burned him. In the meantime, he is like a Robin Hood of Miami, helping the good guys beat the bad guys. Who doesn't like that? Plus, he always looks so, SO good while fighting the bad guys. Michael probably wouldn't make the best boyfriend since he and Fiona have been on and off for many, many years now and he just can't seem to turn from the life of a spy even for the girl he loves.
TV Show Boyfriend: Marshall Eriksen
TV Show: How I Met Your Mother

Why I chose Marshall as a TV show boyfriend:
I think the fictional relationship that is most like my relationship with Adam is Marshall and Lily aka Marshmallow & Lilypad. We're both laid back, goofy and fun-loving. Marshall is just such an endearing character and Jason Segel is downright hilarious! It's always nice to have boyfriend that would make you laugh.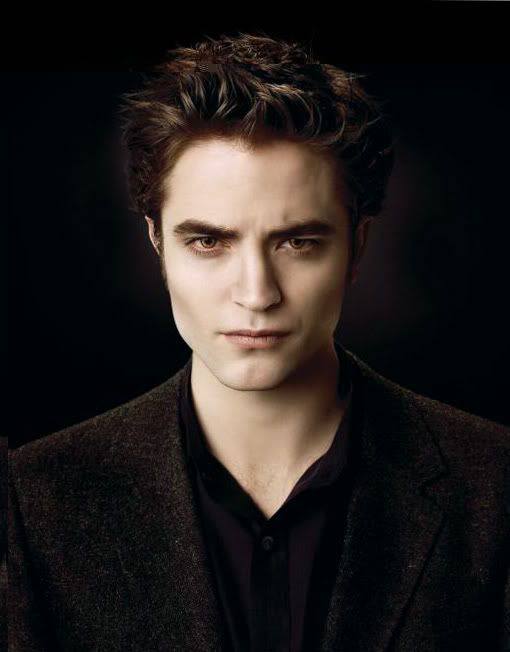 Movie Boyfriend: Edward Cullen
Movie: Twilight series

Why I chose Edward as a movie boyfriend:
I think this one goes without explanation. I definitely all for Team Edward. I think the how frenzy for Edward has to do with the fact that he is so protective of Bella and all of us women would love to have a man protect us - whether it be from harm or evil vampires, you can't help but fall for someone like Edward. *gushing*
Who would you choose for book/TV/movie