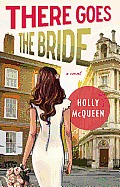 Title
: There Goes the Bride
Author
: Holly McQueen
Publisher
: Atria Books (June 5, 2012)
Source
: Received from publisher
Summary from Goodreads:
Happily ever after isn't always what you expect..."Polly Atkins, a Londoner living in New York City, is headed back across the pond for her wedding, a grand affair that has her older sister, Bella, in a whirlwind of excitement. Bella can't wait to take over the wedding plans--and neither can Polly's best friend, Grace, whose life as a wife, housekeeper, and mother is making her feel older than her twenty-eight years. She's desperate to see Polly settle down in the same city--and the same life.

The only one who isn't bursting with enthusiasm is Polly. Which is why, before things can get any more chaotic, she calls the whole thing off and lets go of the most perfect man on the planet. There's no way that Polly is going to tell anyone why she's changed her mind. Some secrets are best kept hidden. But Grace and Bella are determined to get Polly and her fiance back together if it's the last thing they do. After all, solving someone else's problems has got to be better than dealing with your own. . . .
Review:
I have been waiting for this book for what seems like a long time. I love me some chick-lit every now and then, but I just haven't been able to root for the characters in the chick-lit I've read lately. They just seem so much like caricatured versions of whatever stereotype they are supposed to represent - the lonely housewife, the unfulfilled career woman, the lost and drifting girl in her early twenties. It's been hard to find characters that you could root for, but this was NOT the case with
There Goes the Bride
... AT ALL.
What I loved the most about this book was that it drew me in with realistic, believable characters. The story is told from the perspectives of Polly's older sister, Bella and her best friend, Grace. It seems like I've been enjoying multiple perspectives a lot lately in my reading, but the best part about it is that it added so much to the story being able to be in the head of two very different women. McQueen adeptly introduces various characters in a way that makes it easy to follow. (I don't like it when an author throws a bunch of characters at you all at once and you spend the rest of the book trying to remember who so-and-so is and how they're related to the main character.) It picked me up from the first page and never lost it's momentum. I love when a book does that!
Bella, Grace and Polly are flawed and just oozing with insecurities, but the way McQueen writes, she nails down all of raw and REAL insecurities of most women. The way women look at each other and automatically assume that the other is thinking the worst about you. It's a daily battle for me. Bella and Grace battle with all of the insecurities that women struggle with everyday - How do we measure up? Are we pretty enough? Am I skinny enough? Will he love me forever? Am I a good mother? What do people really think of me? McQueen writes about women so well and about how cruel we can really be to other women with all the passive-aggressive, emotional one-upping over each other. I can't wait to read more of her books.
It's been a long time since I've finished a book within a night. I thoroughly enjoyed
There Goes the Bride
and highly recommend it to anyone looking for an well-written story that will draw you in from the first page and be almost impossible to put down once you get started. You won't be disappointed!
Rating:
5 out of 5 stars